Welcome To

KONGU ENGINEERING COLLEGE ALUMNI ASSOCIATION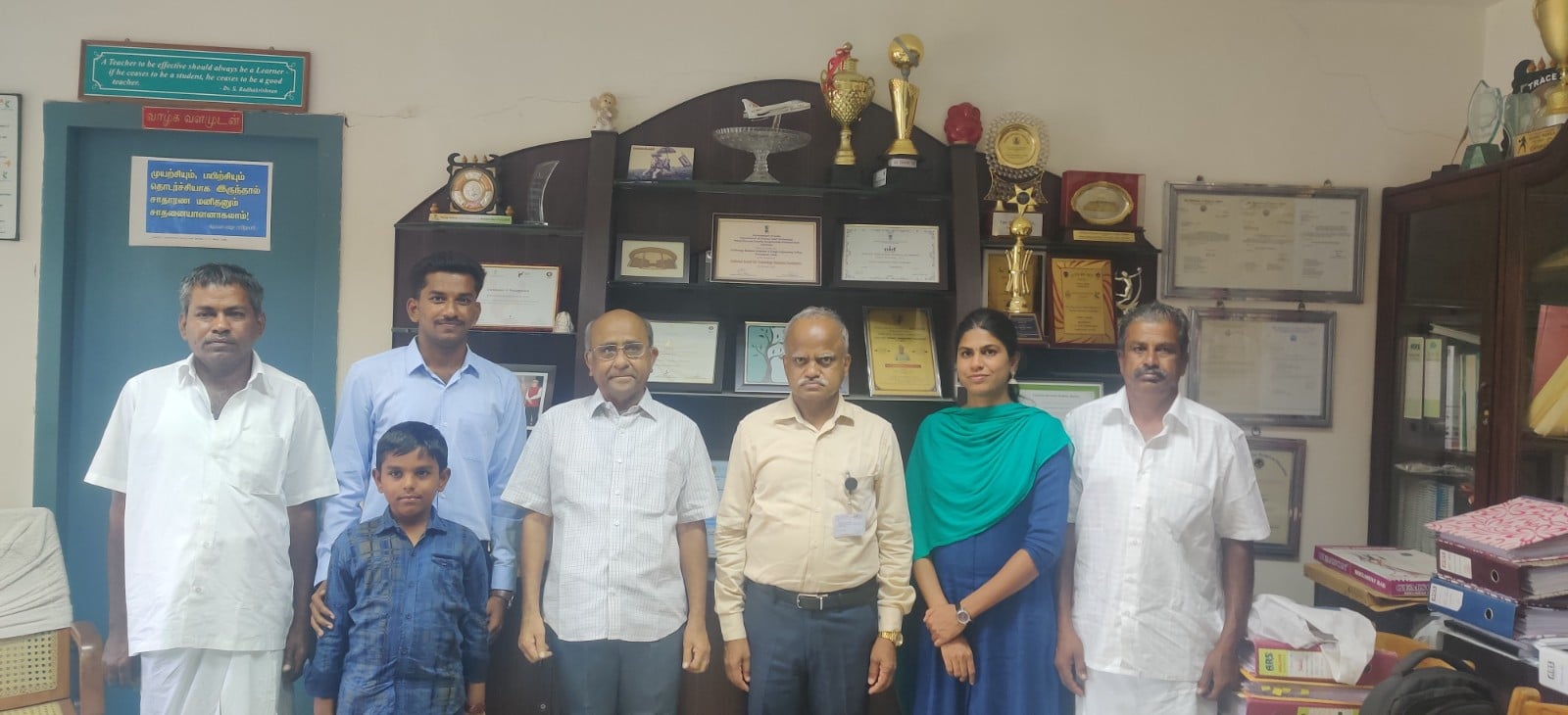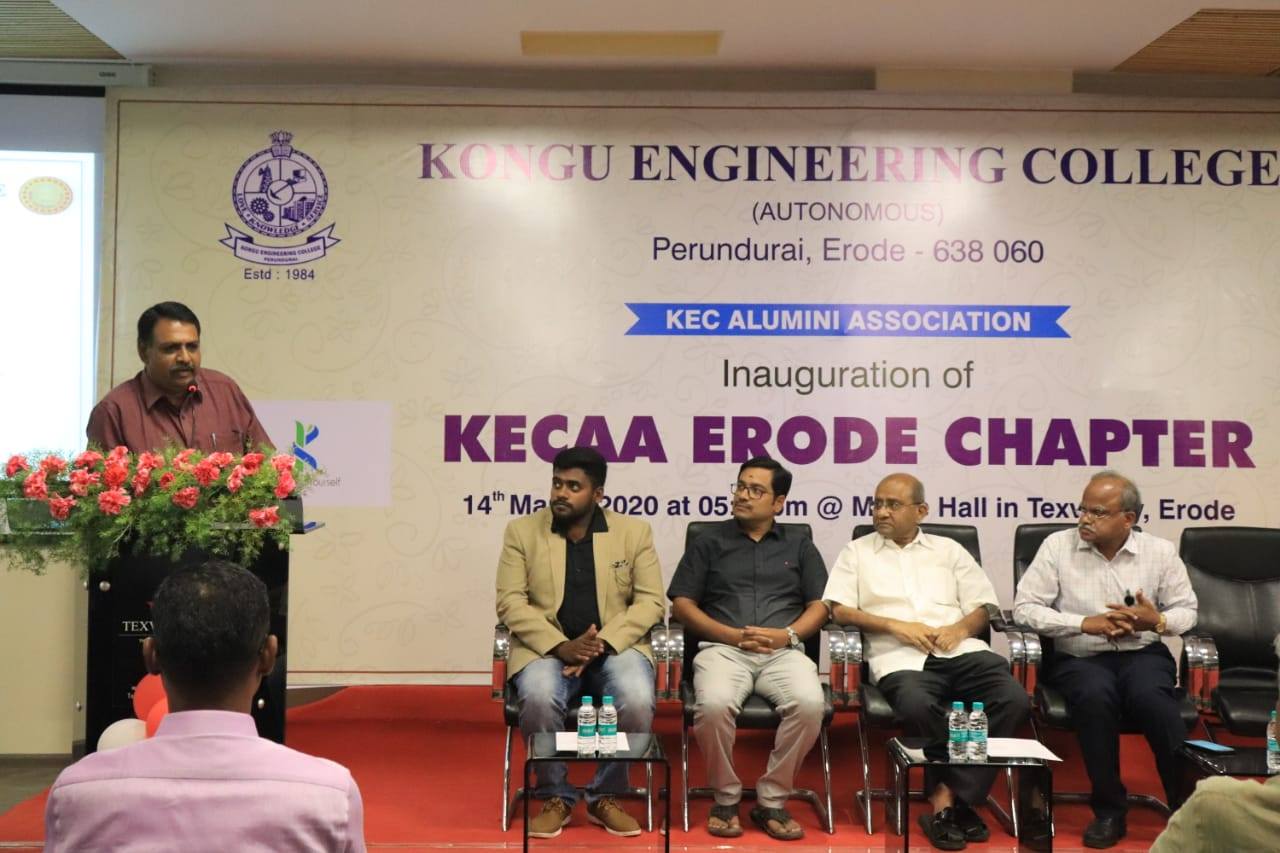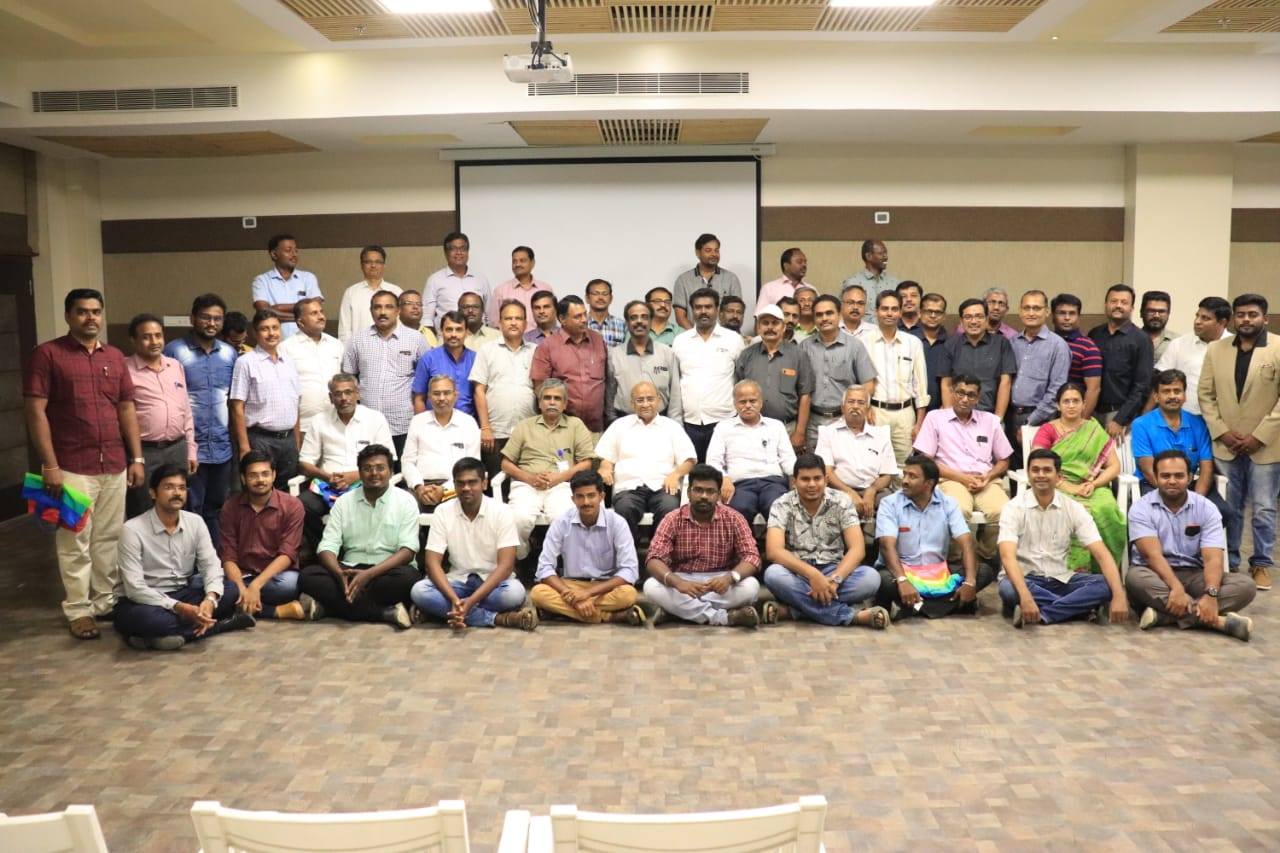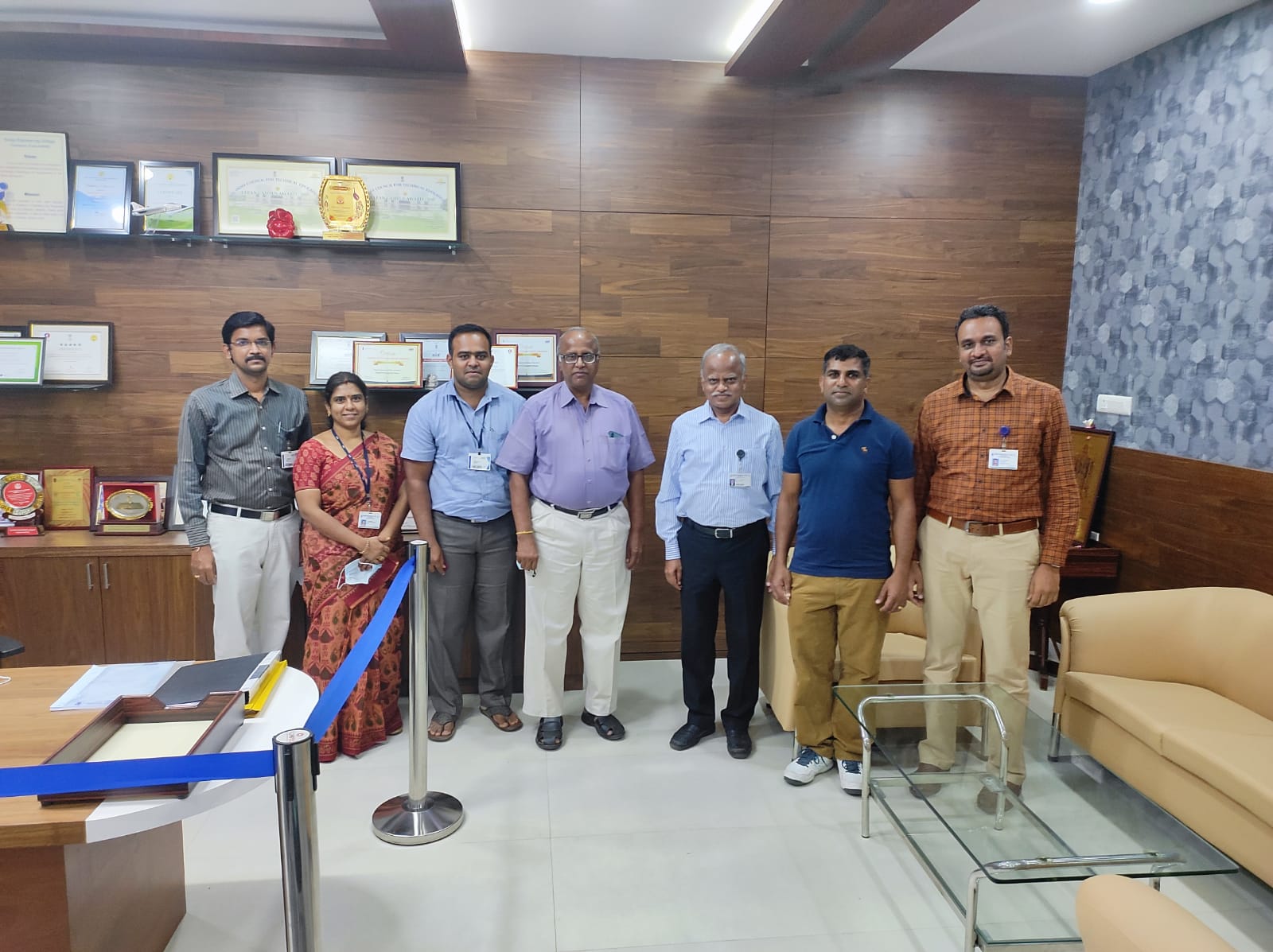 119847559_3242174729229195_5075804774539799462_n
89767541_2746000555513284_8181905333011087360_n
90172597_2746000758846597_469385594116505600_n
WhatsApp Image 2022-01-20 at 4.47.40 PM

Event Timeline
Continues...



1997-2012

First Silver Jubilee Meet
SJM 2013(1988 Batch)

2013

KECAA North America
Chapter Inauguration

2013

RECONNAISANCE'19
-Alumni Reunion 1998

2019

KECAA Erode
Chapter Inauguration

2020

KECAA UK-Europe
Chapter Inauguration

2020
Correspondent's Message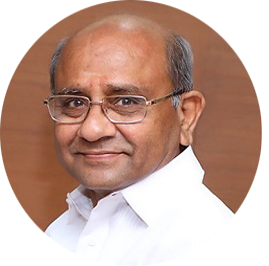 THIRU.P.SACHITHANANDAN Correspondent

The KEC Alumni Association has been envisaged to foster a closely knit network bridging the gap between young budding KECians and the accomplished Alumni. Our Alumni have made us proud time and again by achieving laurels round the globe and we wish to showcase the same to our entire KEC family. I strongly believe that the more rooted we are, the stronger we grow in life. The Alumni is a strong force that binds us with our roots of wisdom. The illustrious journey of our institution is because of our dynamic students. KEC considers you as its brand ambassador as well as its torch bearer.  Our doors are always open to congregate the professional knowledge and experience of our alumni within, to move ahead jointly with confidence. Without your support, we are incomplete. We can do wonders together. The KEC Alumni Association will be the platform for all the KECians to connect, communicate and converge.
Principal's message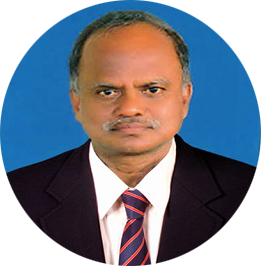 Dr.V.Balusamy Principal

Kongu Engineering College is a renowned and prestigious institution of the city of Erode and I feel extremely happy and privileged to be part of this magnificent educational institution. Today we are living in a fast changing complex society, which presents before us challenges as well as opportunities. In this context it all depends on every individual how one responds to the situation with the right mindset. I remember the words of Benjamin Disraeli, "Nurture your mind with great thoughts, for you will never go any higher than you think." Indeed, we need better education to have better thoughts, to be better human persons, to build a better society. I firmly believe that every human being endowed with various talents and skills is a precious gift of God. I am very pleased to bring to your notice that Kongu Engineering College is one of those Colleges which provides ample opportunities along with a value based wholesome quality education to nurture the inner potentials of every child. Let's work together to develop a strong, interactive alumni community which in turn will forge a successful alma mater.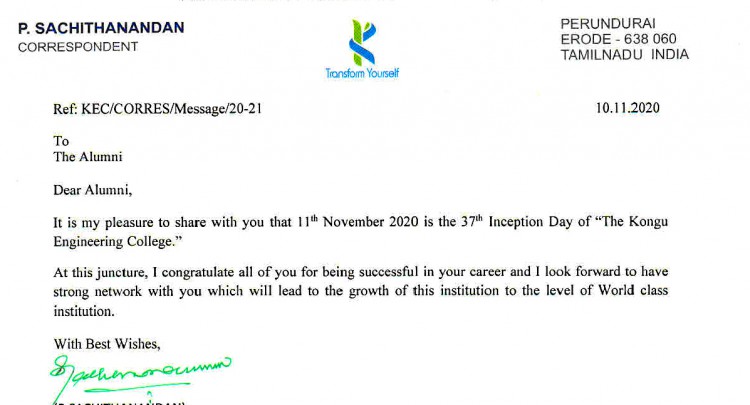 News
KEC ALUMNI ASSOCIATION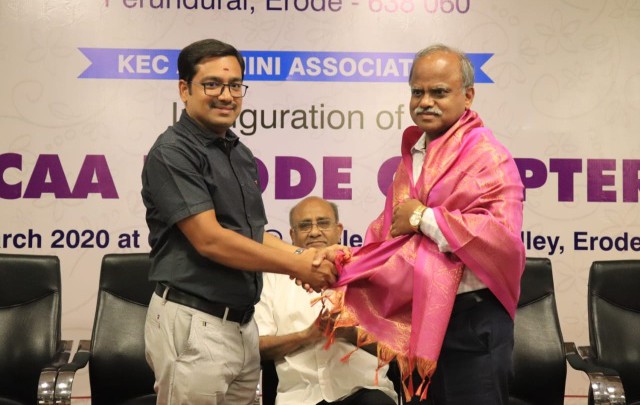 News
KEC ALUMNI ASSOCIATION
The KECAA Erode chapter was formally inaugurated by Thiru P.Sachithanandhan ,Correspondent ,KEC on 14.03.2020 at Texvalley Erode. Around 75 alumni participated in the function and interacted among themselves.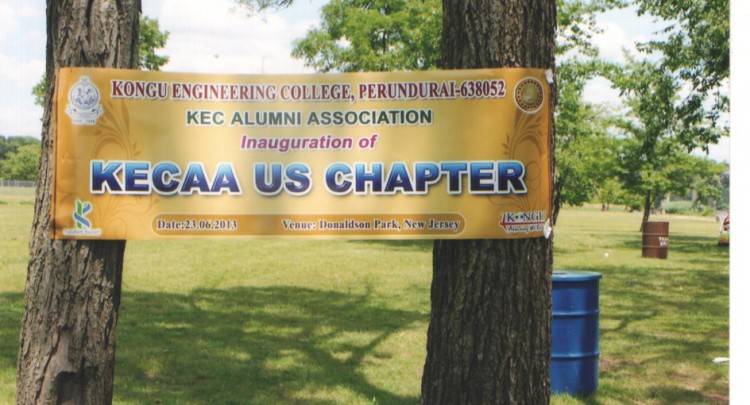 News
KEC ALUMNI ASSOCIATION
The KEC – US chapter was formally inaugurated by Prof.S.Kuppuswami on 23.06.2013 At Donaldson Park (Grove #4), South 2nd Avenue, Highland Park, NJ 08904.Around 25 alumni participated in the function along with their family members and interacted among themselves and the Principal of KEC.